Welcome to HerKare - League City
How may we care for you today?
HerKare in League City is founded by women and tailored specifically for women. If you haven't been feeling like yourself lately and you don't know why, we are here to help determine the cause. Our entire focus is on women's health, and we offer hormone replacement therapy (HRT) in League City along with other services to help you start feeling like yourself again.
Hormone Replacement Therapy in League City
As part of menopause treatment, estrogen replacement therapy and other forms of HRT can help with a variety of symptoms and conditions. Feeling run down, having a low sex drive or experiencing mood swings and irritability are not just symptoms you have to deal with or an inevitable part of getting older. We'll run some tests and talk to you about how you are feeling to help us diagnose what is wrong. Then, we work with you to create a personalized treatment plan. If you are being treated with bioidentical hormones, we'll continue to monitor your health. We want to make sure that you're receiving the right dosage to get your hormone levels back in balance and to feel better.
Women's Health and Wellness
In some cases, you might also have some questions about lifestyle changes. If you do, we'll talk to you about exercise, healthy eating and any other concerns you may have. Our whole health approach means we believe in treating you as a person and not just a collection of symptoms or test results. We want to get to know you and find out what we can do to contribute to your wellness. Too often, women prioritize everyone except themselves. Our Herkare approach to women's wellness means that from the time you walk into our offices, you come first. We take as much time as you need to feel comfortable that all your concerns have been addressed, but we also value your busy schedule. To book a women's health assessment, contact our League City team at HerKare by phone or by making an appointment online.
Your Medical Providers at HerKare - League City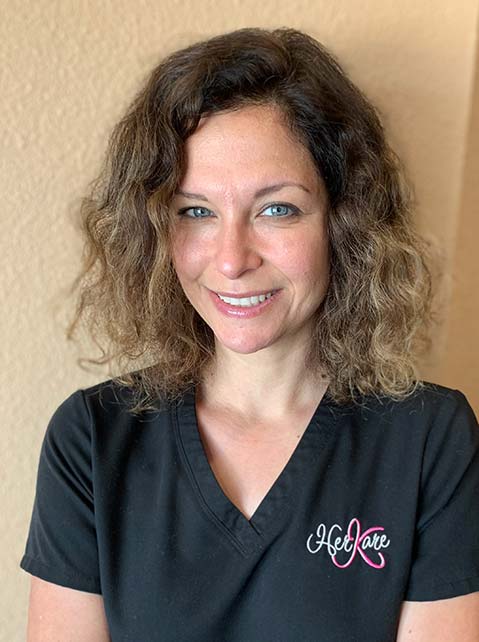 Rachel Jones
Rachel Jones completed her Bachelor of Science in Nursing degree at the University of Texas Health Science center at Houston in 2013 and then earned her Master of Science as an Adult & Geriatric Primary Care Nurse Practitioner from UTMB at Galveston in 2017. Certified by the American Association of Nurse Practitioners (AANP), Rachel's focus is on promoting women's health through hormonal balance, optimal chronic condition management, and preventative care.
Raymond Westbrook, D.O.
Dr. Westbrook attended undergraduate school at Texas Tech University, and graduated from the University of North Texas Health Science Center in Fort Worth in 1999 as a Doctor of Osteopathy. He completed his residence in the Internal Medicine division of Methodist Hospital in Dallas, Texas, where he served as Chief Resident during his final year. Following completion of his residency, Dr. Westbrook established a successful Internal Medicine practice in Arlington, Texas. During the course of treating his patients, Dr. Westbrook developed a professional interest in focusing on the treatment of hormonal deficiencies. This interest led him to join the team at HerKare where he currently serves as the National Medical Director.