Welcome to HerKare - Mansfield
How may we care for you today?
At HerKare in Mansfield, we know that every woman has a unique set of needs. Our services are by women, for women, and we are dedicated to helping you. Whether you haven't been feeling yourself lately or you would just like a women's health assessment to check your overall wellness, we are here to talk to you about concerns you have and work with you to create a personalized treatment plan.
Mansfield Hormone Replacement Therapy
For menopause treatment and any condition that cause a hormonal imbalance, we offer hormone replacement therapy (HRT). Treatment with bioidentical hormones can help you with many different symptoms, including fatigue, moodiness, a low sex drive and more. Estrogen replacement therapy or other kinds of hormone replacement can help you get back to feeling like yourself again. In addition to talking about your symptoms, we'll run tests to determine whether your hormones are out of balance. We'll continue to monitor you while you are receiving HRT and adjust your dosage to help you feel your best again.
Dedicated to Your Health and Wellness
If you're like many women, you tend to prioritize the well-being of others but don't always do the same for yourself. At HerKare, you are our priority. With our whole health approach, we want to make sure you feel good both physically and emotionally. We know how busy you are, and we respect your time, but we'll never rush you through your appointment if you have questions or concerns you'd like to talk to us about. We believe listening to you is one of the important ways that we can address every aspect of your health. Our medical team at HerKare is dedicated to women's wellness, and we can't wait to start working with you. To schedule a women's health appointment in Mansfield, give us a call or schedule an appointment online today.
Your Medical Providers at HerKare - Mansfield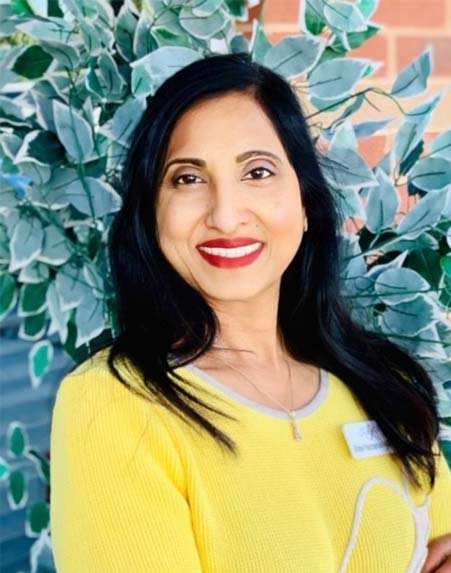 Sridevi Panchamukhi, MD, MBA, FACOG
Sridevi Panchamukhi is a board certified OBGYN by the American Board of Obstetrics and Gynecology She completed her medical education followed by Post Graduation in OBGYN at JIPMER, Pondicherry, India, a premier Institute for Medical Sciences. She came to the United States and successfully completed residency in OBGYN at Flushing Hospital, an affiliate of Cornell University, NY. She completed executive MBA from the prestigious Washington University Olin Business School, St Louis, MO. She worked at Rural Health, Anna, IL for 18 years as OBGYN providing complete care for women of all ages. She moved to Dallas in January 2019 and worked briefly as OB hospitalist at Baylor Scott &White, Frisco. She is passionate about complete women's health and wellness and performs State of the Art minimally invasive surgeries including Robotics. Clinical interests include teen age contraception, menstrual disorders, and hormonal imbalances. Dr Panchamukhi believes in providing optimal care with compassion in a caring environment, and spends time in educating women about making right choices for their medical care.
Raymond Westbrook, D.O.
Dr. Westbrook attended undergraduate school at Texas Tech University, and graduated from the University of North Texas Health Science Center in Fort Worth in 1999 as a Doctor of Osteopathy. He completed his residence in the Internal Medicine division of Methodist Hospital in Dallas, Texas, where he served as Chief Resident during his final year. Following completion of his residency, Dr. Westbrook established a successful Internal Medicine practice in Arlington, Texas. During the course of treating his patients, Dr. Westbrook developed a professional interest in focusing on the treatment of hormonal deficiencies. This interest led him to join the team at HerKare where he currently serves as the National Medical Director.