What is WiQo PRX-T33 treatment?
WiQo PRX-T33 peel is an innovative, patented chemical cosmetic treatment from Italy with over two million applications performed in medical aesthetic offices all around the world. This advanced medical peel — that doesn't "peel", promotes natural skin regeneration in a gradual, painless, and delicate way. From the first application, patients have reported seeing skin improvement without the use of needles or invasive procedures. WiQo's patented formula is applied using a specific massage technique, that may provide dramatic and immediate improvement in skin texture and laxity, reduce the effects of aging, and give a renewed vitality to your aging skin due to the deep hydrating effect. In a non-invasive way, WiQo treatments may help to prevent further signs of aging, without surgery or needles, with a natural and long-lasting effect. There is no peeling, no flaking, no photosensitivity, and no downtime.
Benefits of a WiQo treatment?
WiQo treatments may give a dramatic, often immediate improvement in skin texture, laxity, clarity and vitality at any age. Results have shown to be effective and natural.
What areas can be treated with WiQo?
Any area of the body may benefit from a WiQo treatment. The most common areas are the face, neck, and décolleté. Treatment can be performed on most all skin types and there are no age restrictions.
What will happen during a WiQo procedure?
After a thorough and delicate cleansing, the WiQo PRX-T33 solution is applied to the selected area of treatment. The solution will be layered and massaged into the skin using a specialized technique. A slight tingling sensation may be felt however it is not painful. Once the correct number of layers of solution have been added, the treatment area will be washed off with water and then a post-application cream will be applied. Immediately after the treatment, patients often notice their skin appears more vibrant, dewy and tighter.  You will be given two products to use at home between treatments to support your results.
How many WiQo treatments will I need?
A series of four treatments done at weekly intervals is strongly recommended for best results. Topical glycolic acid and moisturizing cream is given to you to be used at home between treatments to prolong and enhance the outcome.
How long is the downtime from a WiQo treatment?
There is no downtime and no photosensitivity.
Advantages of WiQo treatments
Painless, with no lasers or needles
No downtime for effective, natural results
Can be used during summer months
Minimal time for each procedure: 30-45 minutes, per area
Often immediately noticeable firming and tightening
Potential side effects of WiQo treatments
There could be some flaking (from your skin shedding some excess dead cells)
Moderate redness
How does WiQo work?
PRX-T33 combines the effects of Kojic Acid, Hydrogen Peroxide, and TCA (Trichloroacetic Acid) resulting in immediate improvement to the texture and laxity of your skin. This FDA-conformed solution is designed to stimulate the regeneration of collagen with no exfoliation or peeling since it penetrates deep into the dermis, without damaging the outer layers of skin.
Treatment Results: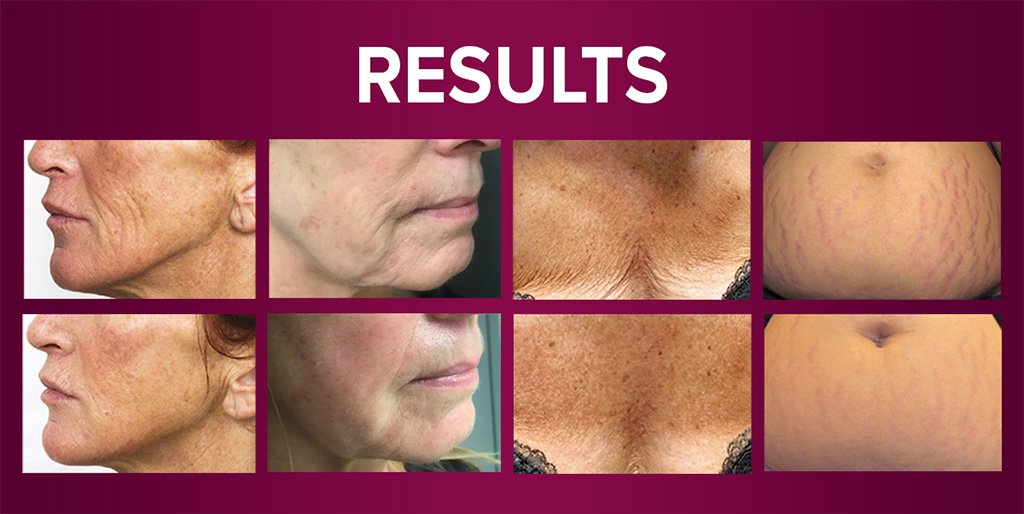 The above patient examples should not be taken as a guarantee of results. Your treatment results and timing for results may vary.  You should consult with a physician before considering if any treatment is appropriate for your individual health and wellness goals.
NOTE: Not all treatment services are currently available at every location. Check with your local HerKare for the services offered in your area. For a HerKare clinic near you: HerKare Locations